---
You can also visit the SpiderShop during open hours with your Textbook List. Your books will be pulled for you at the back of the Shop and can be purchased at the Cashier Desk at the front of the Store.
Or you can order online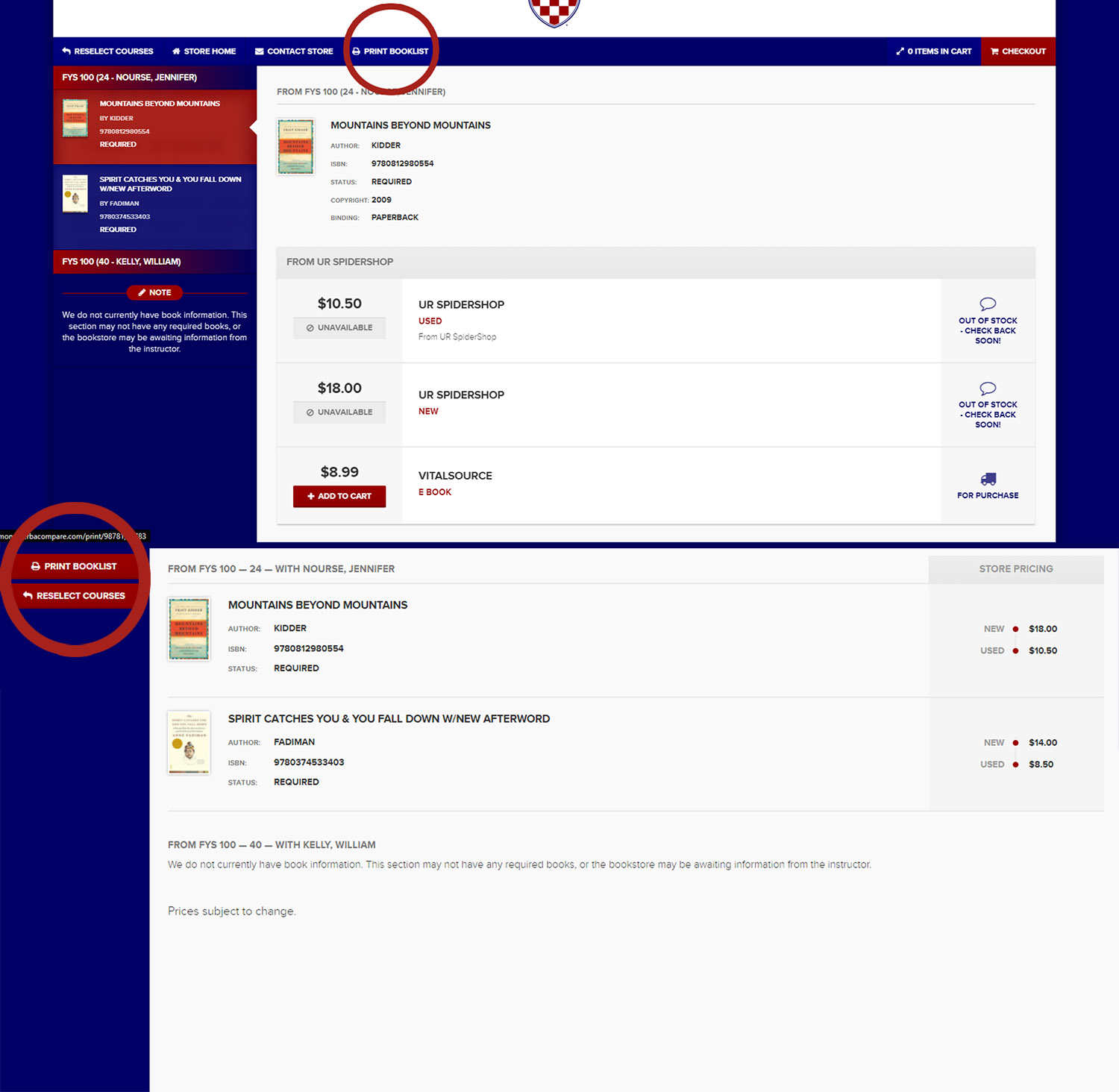 Online Receipt!

Lost your paper receipt? No worries. Ordering online, you will always have a copy of your receipt available on your SpiderShop account. You can also find your receipt under the email which is tied to your SpiderShop account.

No waiting in Lines

Once your order is placed, it will be filled within 24-36 hours. You will be recieve a email informing your order is ready for pick up.

Click here to shop for your Textbooks

The SpiderShop is the place to go for your Textbook order Pick up!

We work hard to make sure, at the time of completing your order, you are emailed about the status of your order. If after 24-36 hours of your order you have not received an email, feel free to email the SpiderShop at Bookstore@richmond.edu, be sure to send your order number and ask the status of your order. Or you can call 804-289-8491

There are some important things you will need to know when shopping for your Textbook. You need to know the Term of your class (ex Spring 2020), Department (ex ACCT), Course Number (ex 201), and Section (ex 01). All together it should look like this; Spring 2020, ACCT 201, 01. Where can you find all of this? In Blackboard under Week at a Glance! Click here for a sample. See the image below, it is a good example of what you will see. Once you know the course number for your classes, it will make finding your book easy.
At the top of the SpiderShop page, click Books, the drop down menu will show Buy/Rent, click the link. It will take you to our Verba Compare site. Fill in your course information. Click here for a sample of how everything will look.
Fun fact, you can enter more than one course at a time! Select the 'Compare Prices on These Course Materials'. All the results; not only prices from the SpiderShop but from Amazon and many other sites will show up! SpiderShop cannot guarantee purchases made on outside vendor sites. If you have any questions or conserns, feel free to contact us by the contact info located below
Phone: 804.289.8491
Email: Bookstore@richmond.edu

Typically it will take at most 24-36 hours before the order is ready for pick up. Best time to order your textbook to pick it up fast is to order before 12pm EST Monday-Friday

Renting is a great way to save money. Students can write and highlight in rental books before returning them to the SpiderShop! (It is safer to wait until after the add/drop date before marking in your Rentals.) Unfortunately not all textbooks are available for rent. During the check out process either instore or online, you will be prompted if you would like to rent available Textbooks. Ebooks are available to rent or buy with VitalSource.

Textbook lists are a great way to find required and recommended textbooks for your classes. The SpiderShop is determined to keep students and parents informed what materials are needed for class. The List is updated every Mon - Fri by 11am EST. The Textbook list is subject to change; prices and books (Title/edition/number of books)can be changed at any time depending on the requests of the Professor, Publisher, or Distributor

The Last day for Textbook Returns or Exchanges will be the same date as the last day for Add/Drop the course for the semester. All returns and Exchanges can only be done with a receipt presented as proof of purchase

Check the Textbook List!

It is always a good idea to check the UR Textbook List. The UR Textbook List is a great way to see required and suggested books for your class. Where can you find this list?

Click here for the Textbook Policy

Keep your receipt!

Make sure to always keep a copy of your receipt! In the case you need to exchange or refund a book, you will always need your receipt. If you order online, it will always be available for you on your SpiderShop account. When you buy in store, you will be given a receipt. Hold onto it tight, make copies, and don't throw it away!

Keep your Textbooks like new!

If you are buying a new Textbook, be sure to keep it in new condition! The beginning of the semester is always filled with class add and drops. Make sure to keep it in like new condition, you will need it to be in the same condition you bought it if you want a refund with the receipt so long you do it before the last day to return textbooks!